What's not to like about family holidays in Eastbourne?
Eastbourne is the sunniest place in the UK, so that's a helpful start. As much as I can happily recall eating sand-filled sandwiches, whilst hiding behind a groyne from driving wind at rain on the beach at Skegness as a child, it surely has to be better when the sun's out?
On the Beach
And what a seafront and beach we have here in Eastbourne.
I often deliberately drive the wrong way round town just to take in sea views (it seems that for once I am on-trend – green therapy is all the rage for mental health and wellbeing).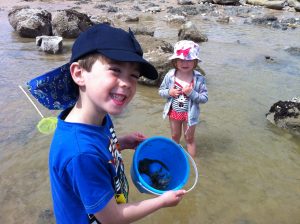 Even now, mid-January, I cycled into the town centre for a check-in yesterday and then headed straight for the beach for a quick 20-minute HIIT session – looking out to sea, waves crashing, phone perched on a pebble as I puff and pant along with The Body Coach on YouTube. I actually felt a bit of a lightweight as a young fella out with his girlfriend stripped down to his boxers and went for a swim. Bonkers.
The iconic Eastbourne pier has been drawing in families on holiday since 1870 and the allure is as strong.
The promenade stretches for about 3 glorious miles and whilst the children chuck pebbles and drop ice creams it's a delight to take in the Victorian architecture and backdrop.
It's mainly pebbles, but the kids will thank you for the sand at low tide as well as the opportunity to explore the rock pools in front of the bandstand or past The Grand Hotel towards Beachy Head at Holywell below Meads.
South Downs National Park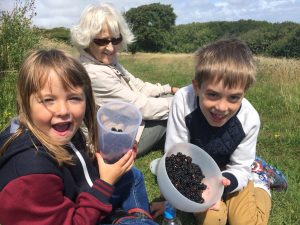 My clan loves a ramble up on the Downs – it's very walkable from Meads or a quick 5 minute drive from central Eastbourne. We're inevitably foraging for berries at the end of summer, or flying a kite or looking for comets on clear nights. It's a fab place to run, hike or generally potter around, feeling remote and vaguely intrepid.
Family Holidays in Eastbourne Top Attractions
Fort Fun – indoor and outdoor activities including soft play, mini golf and bouncy pillows
Drusillas Park – award-winning attraction as the best small zoo in Europe – well worth a whole day out – everyone loves the meerkats and fish-throwing at the penguins
Knockhatch – action-packed (take on the waterslide on little more than tea tray!), with rides and adventure playgrounds – and don't miss the bird displays for wide-eyed wonders.
Eastbourne Miniature Steam Railway – we've made many a lap around the lake on the small scale locomotives. Worth taking a picnic as there's a pretty lake and an adventure playground to enjoy.
Do The Dotto! The land train runs the length of the promenade, stopping at the tourist spots and allowing you to hop off and on as something takes your fancy.
Treasure Island – Soft play, crazy golf and water-park. Chilly water, but worth it for the shrieks and photo ops!
Buzz Active – let the children try their hand at paddle-boarding, kayaking, raft-building, windsurfing and sailing. Whatever your age, try it.
Check out our portfolio of holiday homes and let us know what would best suit your family holiday in Eastbourne.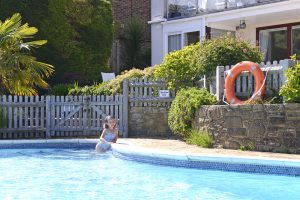 We have spacious family homes with swimming pools, Coastal cottages, modern townhouses in Sovereign Harbour, beach retreats and even spectacular beachfront homes with hot tubs and spa pools – try keeping the family out of those!
We also have smaller holiday homes and beachside apartments, and can happily provide you with a travel cot to help reduce your packing.
And if you are thinking of bringing an extended clan and need group accommodation consider Seahorse Villa (up to 11 people) and Number 95 (up to 19!).
In terms of the areas we offer family accommodation:
Consider us the Eastbourne Experts – our whole team is local and most of us have children so the chances are we've sampled it, so please ask for advice and help – email us info@exclusivelyeastbourne.co.uk, or call on+44 (0)1323 40 60 90