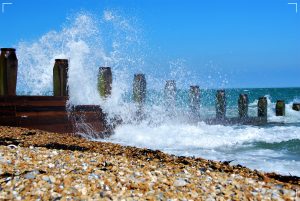 With the 'Beast From The East' having caused havoc across England, now is the perfect time to sit at the computer and start planning your next trip.
Eastbourne has missed the worst of the weather and is already showing a welcome 10 degree rise this week. Just like recent years we are shaping up for a sunny Easter here on the south coast.
Whether you are a couple looking for a romantic break, a family wanting to spend some quality time together, or a group of friends ready to blow off some steam, give us a call today on 01323 40 60 90 and we will find the perfect holiday accommodation to match your needs.
Eastbourne in Easter offers

We have some wonderful offers on hand-picked NEW holiday properties this Easter in Eastbourne. From the ultimate beach property, to a countryside retreat and central Eastbourne boltholes, talk to us about your needs.
Couple Getaways (1-bed properties for up to 2 people plus a baby)
Cosy one bedroom apartment in central Eastbourne, just a stone's throw from the restaurants and attractions with a private parking space which is a wonderful benefit in such a central location.
Newly refurbished throughout for a decadent finish
This elegant apartment situated on the very popular Chiswick Place is just moments from fine restaurants and the Devonshire Park Theatre and tennis centre.
Nicely furnished and it comes with a lovely sense of space since the bedroom is upstairs from the living area.
Immaculate 1-bed apartment in the Sovereign Harbour with immediate beach access.
Enjoy views of the sea from the lounge and kitchen which should provide a restorative effect!
Private parking space provided and immaculate throughout.
Family Breaks (2/3-bed properties for up to 6 people)
This newly listed property is one of pure luxury. It has a unique and contemporary design throughout and boasts panoramic sea views.
Floor to ceiling windows make the most of the beachfront location on the private beach, plus there is a balcony running the whole width of the house.
Private garden, terrace and BBQ.
Within the south Sovereign Harbour this wonderful three story town house is perfect for a relaxing family getaway.
Ideal family accommodation for Easter in Eastbourne, with a balcony overlooking the water and a private garden terrace.
On-drive parking for two cars.
Very central and moments from the beach, cafes and theatres yet providing a peaceful oasis of calm, with two private terraces and a private entrance.
Two double bedrooms and two bathrooms and finished with the eye of a designer for a calming effect.
Parking permits available.
Group Bookings  (4-bed to 8-bedrooms for up to 19 people!)
This property sits on the inner quay of the Sovereign Harbour with a private patio in prime position to watch the boats and world sail by.
4 bedrooms and lovely space for up to 6 people so perfect for families and frienbds in need of a break this Easter in Eastbourne.
Driveway parking.
This eight-bedroom Victorian townhouse is ideal for groups, sleeping up to 19 guests.
Short stays and week-long breaks available with bags of space to mix, mingle and hide if you need to!
Small, private garden and just a couple of minutes walk to the pier and beach.
What's on this Easter in Eastbourne?
This Easter in Eastbourne the Redoubt Fortress are leading the way for Eastbourne entertainment. Easter wouldn't be the same without a good old fashion egg hunt for the kids, whilst couples and parents can enjoy some evening star gazing. Call them on 01323 41 03 00 for more details.
Redoubt Fortress Easter Egg Hunt

Throughout the fort the Easter Bunny has been dropping his eggs, can you help find them all. Running from 31st Mar – 15 Apr adults £4.50 kids go FREE

Redoubt Fortress Star Gazing (Free)

On the 24th March you can step upon the gun platform and look at the constellations through an astronomical telescope. It runs from 7pm-9pm
If you have any questions about Easter in Eastbourne please just let us know on info@exclusivelyeastbourne.co.uk or call 01323 40 60 90 and we even have live chat available so please just click on the icon.