As the Number 1 provider of holiday properties in Eastbourne our aim is simple – to help ensure you get the best experience possible during your precious time away.
We look to hand-pick the finest holiday properties in Eastbourne, in the most sought-after locations, and to wrap it up in unrivaled service.
We've been selectively adding to the property portfolio this year, having unearthed some real gems for you this summer:
Fancy discovering a Secret Garden, an idyllic cottage just a short stroll from the town centre and all the attractions?
Perfect for you (and a partner if you fancy some company) as a base to discover the independent heart of Little Chelsea, take in the theatres or an exhibition at the Towner contemporary art centre, or to head up to the invigorating clifftops along Beachy Head and the Seven Sisters.
A week costs from just £375 so you'll get great value as well as a comfortable stay.
On a somewhat different scale, we can proudly offer you Fairways, an extraordinary holiday home for extended families, complete with private swimming pool.
You'll be located in a prime spot, overlooking the start of the South Downs and the Royal Eastbourne Golf Course (which offers pay-and-play rounds so don't forget to pack the clubs for a crafty 18 holes).
There is space for up to eight, with four large bedrooms and a delightfully spacious feel, with an open-plan layout, but also with hideaways for when you need to escape with a good book.
Number 1 for holiday properties in Eastbourne!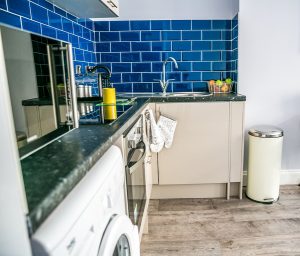 Stylish, contemporary and creatively thought out, our townhouse based just off the seafront on Southcliff Avenue really captures the fresh feel for Eastbourne.
We can offer three apartments of different sizes within the same building.
With Southcliff Loft, an ideal bolthole for a small family or perhaps two couples, with two bedrooms.
Or Southcliff Apartment, sleeping up 6 in three bedrooms, for slightly larger groups or families.
Whilst Southcliff Place can sleep up to 10 people comfortably in 5 double bedrooms.
All the bedrooms are flexible, meaning that beds can be superkingsizes or twin beds, so we can find the right holiday accommodation for you.
Of course, it isn't just a matter of offering you the best accommodation – we have to be able to support you with professional, but friendly service, brimming with local knowledge to offer advice and help for the properties and surrounding areas.
We have a new starter to help you!
We are so pleased that Hanife-Amber Natji has recently joined our team, having completed a degree in International Hospitality Management at Brighton University. She was based at the Eastbourne campus so is full of ideas for places to see and enjoy locally and brings real warmth with her personality and a background in customer service.
You may well meet Hani at your check-in (we always like to provide a face-to-face check-in to make sure you are comfortable in your new home), and she will be based in our office, helping with your enquiries and reservations alongside Sharon and Mike, as well as co-founders Carl and Sarah.
If you need any advice on holiday properties in Eastbourne call us on +44 (0)1323 40 60 90, email info@exclusivelyeastbourne.co.uk or check out availability here.