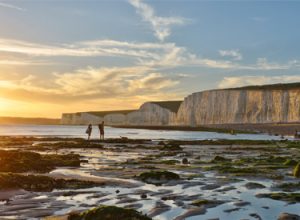 Eastbourne has been recognised as the sunniest spot in the UK for May, registering a whopping 7.5 hours of sunshine EVERY day this month.
Our beautiful spot on the south coast enjoyed 30 minutes more sunshine every day compared to the next sunniest place, Newquay, reinforcing Eastbourne's place at the top of the UK's sunshine league.
An article in The Sun Online today also includes an interesting angle by behavioural psychologist Jo Hemming who makes sense of the feel-good factor we all experience when we spend time by the sea:
"While we know that relaxing on a beach holiday helps us both unwind and recharge our batteries, studies have shown that the psychological effects have a genuine impact on our emotional well-being.
"The link between water and mental health – known as 'blue space' – allows us to de-stress by both releasing the feel-good hormone serotonin and allowing the light and sound from a beach to soothe and calm us."
Given the good weather we're likely to experience over the May Half Term period now is the perfect time to head down to Eastbourne – and thankfully we have some fab holiday homes, many with sea views, to enjoy as the perfect base for your own emotional boost!
Check out our holiday homes and check out live availability and book here.