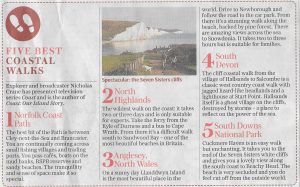 Consistently rated as one of the best coastal walks in the UK, the route along Beachy Head, the Sevens Sisters and Cuckmere Haven in the South Downs National Park near Eastbourne has been recognised again, this time by the Daily Telegraph's Weekend section.
Bill Bryson rates it as one of his favourite walks (anywhere!)
The South Downs Way stretches for 100 miles from Winchester in the West along the rolling chalk hills to the spectacular finale of the sheer cliff-tops from the Cuckmere Haven to Beachy Head just outside Eastbourne.
Best Coastal Walks
The heart will race and that is down to more than the hills – the sensational views of crashing surf, blue sea and white chalk, combine with the invigorating air to create a real sense of exhilaration and escape from urban life.
Head inland half a mile to the picturesque village of East Dean and you can reward your efforts at the Tiger Inn, for a local pint and decent pub lunch, best enjoyed on the benches outside beside the tranquil village green.

If you've made it to Eastbourne, you really should also keep walking down from Beachy Head to Holywell and along the prom until you reach the iconic Eastboourne pier, which was also rated amongst the '5 Most Beautiful Piers' in the same Weekend edition of the Daily Telegraph, May 28th.
Here at Exclusively Eastbourne, we're full of good ideas on what to see and do locally, with honest recommendations from our 7 years of escape in Eastbourne and views passed on to us by our guests.
We can also provide you with good quality self-catering accommodation in all the best locations, from country houses with swimming pools and beachfront pads on Pevensey Bay, to waterside homes in Sovereign Harbour and town centre apartments perfect for a cultural break.