One swallow does not a summer make, apparently. However, I'm completely ignoring that and moving into Shorts and Birkenstocks mode. This isn't simply because I was dive-bombed by a swallow driving over the Cuckemere river yesterday, but with blue skies forecast for this week and the wind coming in from the south-west I have high hopes this this particular ginger will be wearing a few more freckles come the weekend.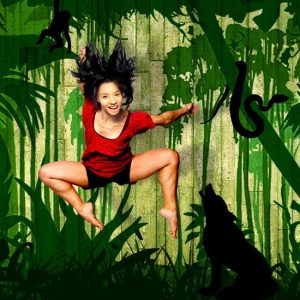 Eastbourne promenade was bustling last weekend as visitors enjoyed the Bank Holiday but given that the 'Things to do in Eastbourne in May' list is pretty extensive you'll have every reason to visit this month.
Jungle Book seems to be the flavour of month across the UK, with a film out now and another on the way, so it could be an appropriate time to take in the Kipling classic with the family at Devonshire Park Theatre 17-21 May, this time re-imagined with street-dance, circus and spoken word. Seems a bit bonkers but it's getting rave reviews.
The audience will be of a slightly different demographic, but no less appealing given the camp comedy on offer, as Julian Clary comes to town at the Congress Theatre 18 May, with his Joy of Mincing tour.
Forgive the limp link, but you can join in the celebrations of the new publication of Rewards and Fairies at Bateman's, the National Trust venue in East Sussex – the kids will love the face-painting, story-telling and trail and parents can take in Kipling's old home.
The bandstand calendar kicks off on May 4th with a classic concert and a crescendo of fireworks and Tchaikovsky's 1812 overture. Bigger crowds will flock to the tribute bands – Freddie Mercury (almost) returns to town this Friday (7th) and both Elvis and Abba (nearly) perform on the 13th and 20th May. Whodathoughtit?

For the Bank Holiday at the end of the month, Hello Kitty returns to her home at Drusillas on May 30th, for another reason to hit the most popular small zoo in the country. (Hint: you can use Tesco Clubcard vouchers to gain cheaper entry).
The other good news is that the sea temperature is rising (into double figures, hoorah!), meaning that a dip in the sea could also figure on your to-do list this month. Sea-swimming friends of mine have managed to maintain a zero-tolerance to wet suits throughout the winter, but now could be the time for the rest of us to cast aside neoprene and take the plunge. Possibly.
For more sensible advice on things to do in Eastbourne in May give us a call on 01323 40 60 90 or email info@exclusivelyeastbourne.co.uk