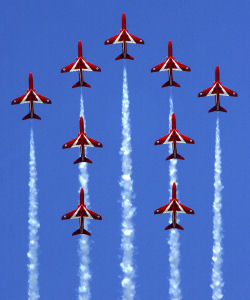 As the planes roar overhead, with the crowds gathered on the seafront, Eastbourne makes for a thriving, cosmopolitan sight. But it isn't just during our four-day airshow when tourist numbers soar as high as the planes.
Tourism is crucial to the local economy, accounting for roughly 20% of all jobs here, with an estimated income generated of over £260m per year* and over two million overnight stays from visitors requiring a whole range of accommodation.
We founded Exclusively Eastbourne Holiday Homes in 2010, having owned and run a guesthouse locally, when we recognised that visitors' tastes were changing.
Whilst there remains a place for traditional hotels and B&Bs, tourists today are becoming increasingly independent, selective and demanding (who doesn't read Trip Advisor reviews??).
As a previous marketing exec at Expedia, the online travel  agent, I was well aware of travellers' growing desire to create their own trip and to look beyond conventional 'rooms' for a night.
There is an increasingly international and affluent dynamic behind Eastbourne and this can only increase with the key development projects underway (such as the Arndale re-development) and in the pipeline (Devonshire Park). This has created a genuine demand for high-quality, spacious and well-equipped self-catering accommodation and at Exclusively Eastbourne, we've created a portfolio of properties to perfectly meet this demand.
Holiday Homes in Eastbourne
Our holiday homes range from 1-bedroom apartments close to the theatres, to 4-bedroom country homes with pools, through to 8-bedroom houses close to the beach (which is perfect for extended families or groups of friends), and all are stylish and include bills, WiFi and our hotel-style linen, towels and toiletries.
The higher-end crowd demand impeccable service so face-to-face check-ins are essential to ensure guests are fully aware of all the amenities on offer and comfortable to be left to relax.
Some of our owners are based in Eastbourne, with second homes they'd like to make extra money from, but many are based in London and indeed overseas, who don't get to enjoy their holiday retreat as often as they'd like.
What's interesting is that our holiday homes enjoy surprising levels of occupancy year-round, far beyond the heights of Airbourne.
We are often unable to meet the demand so are always looking for extra properties to manage.
If you would like to talk to us about holiday and short stay accommodation in Eastbourne or are thinking about letting a property you own (or are thinking of buying) let us know how we can help.
www.exclusivelyeastbourne.co.uk Tel. 01323 40 60 90
*Eastbourne Tourist Accommodation Study, 2015