We must have best job in the world here at Exclusively Eastbourne, discovering and presenting holiday homes in Sussex to make you smile!
It certainly helps when we're offering the sunniest place in the UK and the world-class backdrop of Beachy Head and the South Downs National Park (just ask Bill Bryson for an endorsement!), but even I'm grateful and amazed by the properties we've unearthed for your enjoyment.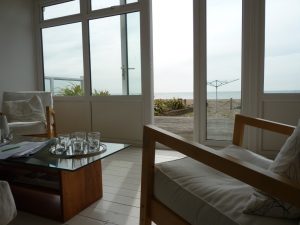 Our lives are getting busier and busier, so let us transport you to the more serene world of Pevensey Beach Retreat, where you can kick off your shoes, open the french doors and wonder at the huge sky, sweeping seascape and passing fishing boats.
Head onto your private terrace and into the garden and directly onto the private beach to saunter, run or swim, fish, paddle or simply gaze out to sea.
We will point you in the direction of fine food, historic gems (since William the Conqueror landed nearby in 1066 to change the course of English history) and natural delights (you have a Site of Scientific Interest practically on your doorstep) but this assumes that you're prepared to leave your beach-front cottage.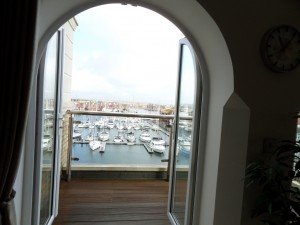 If you prefer swanky style to beach-chic, let us introduce Harbour Bliss, a luxurious pad with arguably the finest views in Sovereign Harbour.
Acres of space, three bedrooms and three bathrooms, carpets to bury your toes in and a feel of decadence throughout. Well, you're away from home so why make compromises!?
You'd start with a Denon sound system, breakfast bar and Krups coffee machine, and leave in a blissed-out state that a month in Ibiza can't create.
Alternatively, stay close to nature, at the gateway to the South Downs National Park, at Holywell Hideaway, the perfect getaway for a romantic week away.
This immaculate and stylish cabin is practically on the hill up to Beachy Head, in a prime position for cliff-top walks and invigorating air, to stir the soul and stoke the appetite!
Think nature with knobs on – as well as access to the greenest green in England you'll have access to Netflix and BBCiPlayer when you crash in front of your telly after a day chasing the clouds.
Your only holiday difficulty this year will be too much choice and too little time. How I do like to make you smile.
Call us on + 44 (0)1323 40 60 90 or email info@exclusivelyeastbourne.co.uk to talk us through your idea for a perfect break and holiday home in Sussex.