Looking for creative, inspiring and invigorating ideas for ways to spend the Easter break or forming plans for the summer holidays?
Here at Exclusively Eastbourne, we're not simply about the finest holiday accommodation in East Sussex, but we're here to help you get the most out of your precious free time away from the office and urban life.
This month, we've been speaking to Jessica Courtney Bennett, from Eastbourne's Towner Gallery, to bring the Coastal Cultural Trail to life and provide some insider's tips on what to explore and where to head.
– What is the Coastal Culture Trail?
The Coastal Culture Trail links 3 award winning, contemporary art galleries on the East Sussex coast. Towner Art Gallery in Eastbourne, De La Warr Pavilion in Bexhill and Jerwood Gallery in Hastings. The trail highlights not just the incredible range of exhibitions and events in the galleries but all the great places to check out on the route. Each town is home to exciting festivals, galleries, restaurants, shops and things to do for all ages.
Each town is unique and has it's own charms all celebrated by local people who are keen to share with visitors. There is a large creative community on the East Sussex coast all doing very exciting things which makes it a great place to visit as things are changing all the time.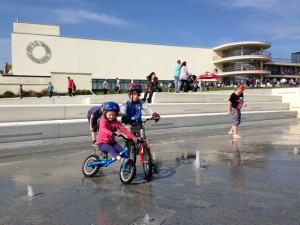 – How many different trails are there and how do they differ?
We highlight three different ways of travelling the trail either in a day or at your leisure across a week. You can walk, cycle or take the train to complete the trail and all offer a unique view of the area. If your interest is in an active break or you fancy a treat we can recommend the best places to stay that suit your taste. If you are travelling with a family we can tell you all about children friendly activities.
– What are your insider tips for places to explore, beyond the 3 main galleries?
My top tips are to sign up to a guided walk while you are in Eastbourne or Hastings. Both towns have historical societies that run regular tours and there is nothing better for scratching beneath the surface of a place. Other top tips include Buzz Active in Eastbourne where you can learn to Paddle Board for £25, The Grand's outdoor swimming pool (available for non guests using the gym), Ice cream from Fusciardi's which is like stepping back in time and the famous Southern Head Fishing Co for fresh fish.
In Bexhill don't leave without a stop into Bexhill Museum which is hidden in a newly refurbished park and a walk to the top of Galleys Hill for the view.
In Hastings jump on a Seashore Rickshaw and check out Robertson Street and the newly reopened Observer Building where endless pop up activity is brining this quieter corner of Hastings back to life. Go to the Old Town and have a pint in The Crown or get the West Hill lift and visit The Beacon, a family run art community, where you can have a slap up 3 course lunch for £15 (only open Sundays).
Although not open yet in 2016 Hastings Pier (The Peoples Pier) will be complete and Eastbourne will have 5 unique and bookable beach huts opened on it's promenade.
– What are your plans for the Coastal Culture Trail in the future?
This summer we will be hosting monthly cycle tours with Sustrans between the 3 galleries for those who fancy taking the 25 mile hike with a group. We are also planning an evening illuminated cycle ride in August.
– How can people find out more about the CCT?
Visit the website www.coastalculturetrail.com or follow us on Facebook, Twitter and Instagram. We love sharing stories and experiences so please tell us about your visit and let people know what you discover.
We can help provide you with suitable holiday accommodation in both Eastbourne and Bexhill – from 1-bed apartments through to 8-bed houses, with everything in between.
Call us on 01323 406090 or email us on info@exclusivelyeastbourne.co.uk for more details.
Other useful websites
www.dlwp.com                                               www.visit1066country.com