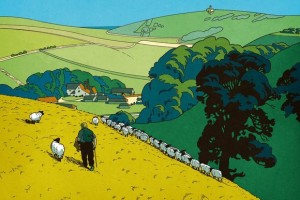 The sun is shining bright and clear this autumnal morning, the sky a cloudless blue – perfect conditions for a walk along the Seven Sisters and beyond, into the South Downs National Park. Bill Bryson would certainly approve – indeed, he has done.
20 years on from his best-selling Notes from a Small Island, he's continued his adventures around the UK and found time to fondly amble along the South Downs Way, the 100 miles stretch from Winchester to Eastbourne along the rolling chalk downs of the south coast.
"The Seven Sisters is one of the great walks of England. From the top of Haven Brow the view is just sensational. Ahead of you stretches a hazy infinity of rolling hills, each ending at the seaward side in a sudden plunge of white chalk. On a sunny day like this one, it is a world of simple, bright elements; green land, white cliffs, deep blue sea, matching sky." Bill Bryson, The Road to Little Dribbling'.
We can provide you with many recommendations for places to visit, walks to plan and restaurants to recover in, and you'll be pleased to hear that we've also taken on some appropriately awesome new properties in which to base yourself.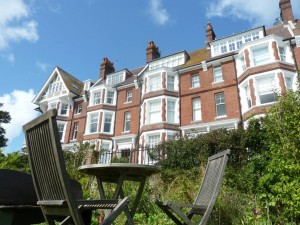 From Chatsworth Seaviews you can take in boats passing by as well as Beachy Head which will inevitably beckon – the family-friendly apartment enjoys one of the finest seafront locations in the highly sought-after Meads area, sleeping up to 6 across 3 bedrooms.
The are some wonderful communal gardens for residents to enjoy, as well as free parking, WiFi and all the essentials you can expect from us here at Exclusively Eastbourne Holiday Homes.
Or why not take a seat on the balconies at Beachfront Apartment, and you'll practically be able to reach out an pluck a pebble below you. The beach and views stretch east towards Bexhill and Hastings or west towards Eastbourne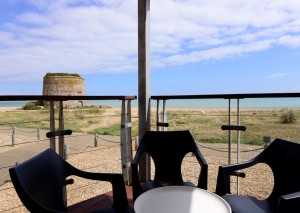 There are 2 bedrooms, 2 bathrooms and 2 balconies, allocated undercover parking and a contemporary setting in the popular North Harbour of Sovereign Harbour. The Waterfront Complex.
Half Term holidays are almost upon us so why not call us on (0)1323 40 60 90 or email info@exclusivelyeastbourne.co.uk to tell us what you need and how we can help you plan your next holiday?