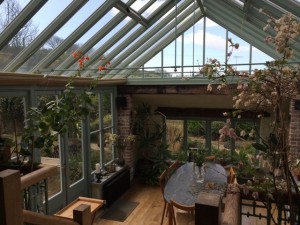 I'd be content to monopolise the old leather armchair in the library and see how many titles I could work my way through during a week-long break.
The wife would be difficult to prise from the conservatory and country kitchen, with its welcoming breakfast table overlooking the ponds and terraces.
The children would, inevitably, quickly spot (and don) the animal skins and longingly gaze at the stuffed tiger head, dashingly adorned with a straw boater.
Ahh, some of the delightful options within Crowlink House, the Grade II-listed 400-year-old farmhouse which is likely to become the headline holiday home within the Exclusively Eastbourne portfolio.
It shouldn't be too much of an ask to head outside as you're based in the tiny hamlet of Crowlink, within the South Downs National Park – so pack sturdy boots, a decent camera and a sense of adventure as you'll stroll down the lane to the Seven Sisters cliff-tops and either head East towards Birling Gap and Beachy Head or up and West to the spectacular views over the Cuckmere Haven.
If you develop a phobia of sheep and feel the need to return to civilisation, how about heading inland to a quintessentially English pub-on-the-green that is the Tiger Inn, or perhaps the award-winning Thai Terre restaurant – East Dean is just a 10-15 walk away. The bright lights of Eastbourne are four miles East and a quick jaunt on the frequent buses.
The accommodation is a rare find indeed – with its five double bedrooms, three bathrooms and two lounges, it offers a spacious base for an extended family or gathering of friends.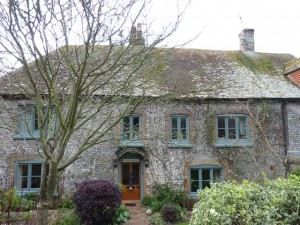 The house is packed with rustic period charm, but don't expect a straight line in the entire building and the vertiginous upper stairway and open ponds mean that very young children would not be encouraged.
If you fancy staying in one of Sussex's finest holiday homes I would suggest that you make enquiry as a matter of urgency. Although the chances of turfing me out of the library are slim indeed.
Weeks are available throughout the year from just £1095 to £1795.