Finally, thankfully, Eastbourne is open and providing the backdrop for summer adventures, escapes and seaside staycations.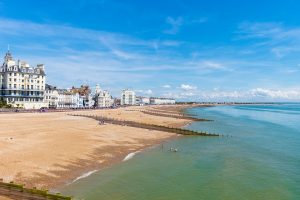 After being cooped up for months Britons have decided that now is the time for fresh air, dips in the sea and a stroll on the prom. All as far as possible from the queues and security of the airport and the prospect of a quarantine on your return, thank you very much.
Perhaps unsurprisingly, many people have recognised that self-catering holiday homes in the UK can provide the perfect combination of freedom, independence and safe social distancing.
Here at Exclusively Eastbourne, we are now officially Covid-ready and all too aware and prepared with astonishingly long cleaning and sanitising routines – our girls are as industrious as ever but now nattily kitted out with apron, masks and gloves, which they're dutifully embracing despite the summer temperatures.
If you're working from home (or perhaps avoiding the children by hiding in the study) take 10 minutes off to enjoy this podcast by Chalk Talks  – a series of conversations which reflect on how businesses in and around Eastbourne have adapted in light of the COVID-19 pandemic. It's been a challenging few months for everyone, so Chalk Talks investigates how businesses have responded to this crisis in order to share experiences and knowledge and this episode focuses on Exclusively Eastbourne with our co-founder Carl Stanger.
ITV's flagship current affairs programme Tonight also ran an episode this month Holidays: Where should we go? looking at whether people are ready to grab a break abroad or more likely to enjoy a British staycation – and again our very own Carl Stanger was approached and involved.
The visits to our website have gone through the roof and the phone hasn't stopped ringing, but we're doing our best to ensure people find the right holiday home for them, in prime locations in and around Eastbourne.
You might not meet us at check-ins during these strange times (we're largely following guest requests for a contactless process right now), but rest assured our team is working flat out behind the scenes – with Sharon now back in the office and practically swimming in hand sanitiser.
Hot Off The Press!!
One of the few benefits of the lockdown is the realisation that working from home can be as productive as when in the office so it seems likely that most of us can get away with fewer commutes into the office.
The Sunday Times this week recognised this dynamic as the '90 is the new 60′ (believing that most of us can suck up a 90-minute journey into the office maybe once or twice a week versus a daily commute of 60-minutes) – so, this could lead to a further exodus from London and beyond the traditional commuter-belt.
Eastbourne, with its 90-minute direct train into London could now become perfectly viable for London professionals.
Who could blame families in particular for fancying our quality of life – the sea breezes, countryside on the doorstep and the amazing value you can enjoy – for the price of a two-bedroom flat in London you can bag a spacious 4-bedroom family home here.
The Sunday Times recommends the large Victorian properties in Old Town and Edwardian villas in Meads. Who am I to argue with that?!
Email us info@exclusivelyeastbourne.co.uk, or call on +44 (0)1323 40 60 90 and we'll listen to your needs for you to get the most from your summer staycation in Eastbourne or to navigate the path to a new life to the sea.
(Note from the author – we're horribly biased having escaped from London over 10 years ago!)