In many ways we prefer to keep a low profile with Exclusively Eastbourne – we simply look to deliver exceptional service for our guests who book our quality holiday homes and short lets in the best parts of Eastbourne.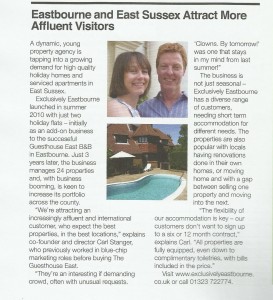 Over years we have selectively grown the portfolio of properties to 25 to meet the growing demand from a more discerning visitor to Eastbourne and the local area.
The latest edition of Sussex Business Times captures our story and our desire to leave corporate lives in London behind in a quest for a better lifestyle in one of England's most attractive (and unexplored) areas.
There is certainly a positive dynamic behind the town as an increasingly international and upmarket crowd look to stay locally, be it for holidays, corporate assignments or language schools.
Exclusively Eastbourne's portfolio ranges from serviced 1-bed apartments through to country homes with pools and 8-bed houses capable of sleeping up to 19 people, so whatever your short term accommodation needs, you can be assured of a quality property.
We are always on the look out for more homes and apartments so if you have a second property you would like to recover costs on or, as many of our owners have discovered, prefer a higher yield compared to traditional longer lettings then do call us on 01323 722774 or email us on info@exclusivelyeastbourne.co.uk
We look forward to hearing from you.